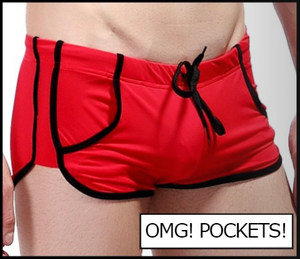 Make a splash this summer with our Pocket Swim Trunks in Red with Black trim. Crafted from soft, quick-drying fabric that feels like a second skin, these trunks are designed to turn heads. With a flattering cut that hugs your hips and thighs in all the right places, you'll feel confident and sexy every time you wear them.
But these trunks are more than just eye candy. The side pockets are perfect for stashing your essentials, whether you're hitting the pool, beach, or dancing the night away at a circuit party or rave. And with a front pouch lining, you'll feel comfortable and supported no matter how wild the night gets.
Available in a range of other colors to suit your personal style, these Pocket Swim Trunks are the perfect choice for anyone who wants to look and feel their best while soaking up the sun. So slip them on and dive in - the water's fine, and so are you.